Welcome to Mouse in the house!
Our products are designed for the new world we are going to be moving into. They are designed for simplicity and comfort- to play from anywhere while capturing memories and being able to re-tell them.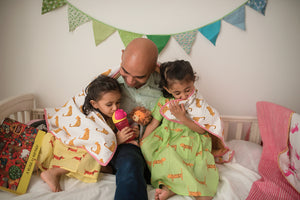 Handcrafted from stories
Born for the Mousekins that are nesting in your cave, we are infamouse- Mouse in the house. A handcrafted kids wear store full of designs, inspired by stories.  
More Info
Qualities
Our products are made of 100% Cotton. They are uniquely designed and easily washable.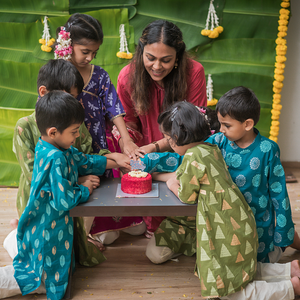 Let Kids be Kids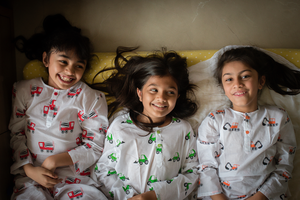 3 Mice woke up with mischief on their mind
Mouse In The House has been our favourite destination for cool and comfortable
kids clothing. The prints are super cute and the fabrics used in the clothing are of
utmost quality and very comfortable
AMI GOKANI(MUMBAI)
Mouse In The House clothes for kids have always been refreshingly different,
reasonably priced and very comfortable. Their prompt service is a delight. I love the
range and designs of their clothes
HAMSINI (MUMBAI)
Mouse In The House makes the most comfortable clothes and their clothing is super
soft and airy. Perfect for your child!
BHAKTI GANDHI(BANGALORE)
My kids absolutely love their clothes, specially their nightwear. They are very
comfortable and comes in amazing prints. These are perfect for gifts as well. Our
friends have loved their hats and nightwear
SONIA SHAH- SAN JOSE, CALIFORNIA
Mouse In The House has been my favourite for my kids. We just love to wear those
comfortable night wear and blankets which is of super quality, comfortable and kids'
attractive prints. love the collection!
MITALI VORA(MUMBAI,JUHU)
Fun, colorful and cute block prints for kids. Both my little ones have grown up
wearing their pjs and loved every single set. They are super comfy and great for hot
summers. Received a tonne of compliments from friends and family. We've been
repeat buyers and are very happy with their clothes
Ashish Jain(USA)